Krytox™ GPL 215
Krytox™ GPL 215 has an Oil Viscosity of 160 cSt at 40°C.
Estimated useful temperature range is -36°C to 204°C.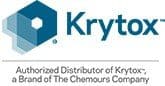 GPL Standard Grades

200
201
202
203

(H-1 Certified)

204
205

(H-1 Certified)

206

(H-1 Certified)

207
GPL Extreme Pressure Grades
210
211
212
-
214
215
216
217
GPL Anti-Corrosion Grades
220
221
222
223

(H-1 Certified)

224
225

(H-1 Certified)

226

(H-1 Certified)

227
Oil Viscosity Index
-
-
29
92
111
124
134
145

Estimated Useful Range

°F

-94-150
-94-220
-81-270
-76-310
-60-355
-33-400
-33-500
-22-550
| | | | | |
| --- | --- | --- | --- | --- |
| Syringe | Tube | Jar | Cartridge | Pail |
| 0.5 oz. | 2 oz. | 0.5 kg | 0.8 kg | 5 kg |
| 1 oz. | 4 oz. | 1 kg | | 7 kg |
| 2 oz. | 8 oz. | | | 20 kg |
Bearings
O-Rings
Valves
Hinges
Handles
Moving Parts
Seals
Connectors
Rollers
Automotive Interiors
Fittings
Gearbox
Krytox GPL 215 heavy-duty grease is used for high loading or slow speeds. EP greases have high load-carrying capability and good lubrication characteristics under boundary and mixed friction conditions. In addition to the EP additive in Krytox GPL 215 heavy-duty grease, Krytox oil provides adequate EP protection as an oil by itself, due to the viscosity build under load and its unique tribochemistry.
A common test for analyzing EP performance is the Timken EP method, ASTM D2509. The test is performed by applying pressure between a rotating steel cup and a steel block and simulates line contact conditions. Two conditions are observed; the OK Load is the highest load at which no seizing or welding occurs, and it also reflects the load-carrying capability of the lubricant. The
Score Load is the lowest load at which seizing or welding is observed. The scar width, which is the average scar width at the load corresponding to the OK load valve, is also recorded.
Another common test for analyzing EP performance is the Four Ball EP, ASTM D2596. The test is performed by steadily increasing the load on a rotating steel ball in contact with three fixed balls until they seize and welding occurs, which simulates point contact conditions. The lowest load at which this welding occurs is called the Weld Point. From this data, the load wear index (LWI) is calculated, which is a value that relates how well the grease prevents wear when operating below the weld point. For many competing greases, the LWI can generally fall between 50 and 100. Krytox greases typically have an LWI well above 100. This further shows how in addition to extreme condition performance, Krytox™ can also outperform most competitive greases in extreme pressure performance
One of the greatest advantages of using Krytox lubricants is stability in a wide variety of operating conditions and environments. This inert nature is what allows Krytox oils and greases to outlast and outperform competing hydrocarbon products.
The recommendation made here with and the information set forth with respect to the performance or use of our products are believed, but not warranted to be accurate. The products discussed are sold without warranty, as to fitness or performance, express or implied and upon condition that purchasers shall make their own test to determine suitability of such products for their particular purposes. Likewise, statements concerning the possible uses of our products are not intended as recommendations to use our products in the infringement of any patent.