Krytox™ GPL 225
Krytox™ GPL 225 has an Oil Viscosity of 160 cSt at 40°C.
Estimated useful temperature range is -36°C to 204°C.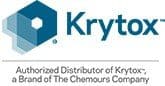 GPL Standard Grades

200
201
202
203

(H-1 Certified)

204
205

(H-1 Certified)

206

(H-1 Certified)

207
GPL Extreme Pressure Grades
210
211
212
-
214
215
216
217
GPL Anti-Corrosion Grades
220
221
222
223

(H-1 Certified)

224
225

(H-1 Certified)

226

(H-1 Certified)

227
Oil Viscosity Index
-
-
29
92
111
124
134
145

Estimated Useful Range

°F

-94-150
-94-220
-81-270
-76-310
-60-355
-33-400
-33-500
-22-550
ASTM D2595
ASTM D6184
NSF H-1 Rated
| | | | | |
| --- | --- | --- | --- | --- |
| Syringe | Tube | Jar | Cartridge | Pail |
| 0.5 oz. | 2 oz. | 0.5 kg | 0.8 kg | 5 kg |
| 1 oz. | 4 oz. | 1 kg | | 7 kg |
| 2 oz. | 8 oz. | | | 20 kg |
Bearings
O-Rings
Valves
Hinges
Handles
Moving Parts
Seals
Connectors
Rollers
Automotive Interiors
Fittings
Gearbox
The Krytox GPL 225 grease contains an anti-corrosion/anti-wear inhibitor and is ideal for corrosive environments where there is no danger of the sodium nitrite additive reacting with chemicals or causing contamination problems. Typical applications are automotive bearings, sealed pump bearings, electric motor bearings, and general purpose bearings. Krytox oils and greases are silicone free. They do not contain any VOC materials or chlorine and are not hazardous to the atmosphere or ozone layer. They are biologically and environmentally inert.
The fully fluorinated Krytox GPL 225 high-temperature stability provides bottom-line savings from improved reliability and a reduction in grease usage and manpower through extended relubrication intervals. Excellent film strength reduces wear to reduce maintenance costs. Under high loads the viscosity increases to provide support and absorb the pressure.
New components often have organic rust preventive oils or greases on them to prevent damage while they are in storage before use. New bearings should be inspected for damage and cleanliness before use. The components must be completely cleaned of greases or preservative oils when using Krytox as a lubricant. Failure to do so could result in reduced bearing life. Bearing life tests on un-cleaned bearings have shown reduced life in high temperature, high speed tests where the bearing was filled with a minimum amount of grease. The preservatives coat the metal surface to prevent rusting so they can also prevent the grease from adhering, causing them to be thrown off by the action of the bearing. They could also oxidize and harden and can create debris which will contaminate the grease.
Krytox lubricants provide longer lasting lubrication that reduces frequency of re-lubrication, not only reducing operating costs, but also reducing waste and potential impact on the environment. Krytox lubricants are undamaged by, and non-reactive with, acidic or caustic cleaners and disinfectants, steam, moisture or high temperatures. The original properties of the fluids can be restored through regeneration; thus, reducing or minimizing disposal and incineration. Chemours has a regeneration program that reclaims PFPE fluid. This lowers the overall cost of the fluids, and reduces or minimizes safety and environmental disposal problems.
The recommendation made here with and the information set forth with respect to the performance or use of our products are believed, but not warranted to be accurate. The products discussed are sold without warranty, as to fitness or performance, express or implied and upon condition that purchasers shall make their own test to determine suitability of such products for their particular purposes. Likewise, statements concerning the possible uses of our products are not intended as recommendations to use our products in the infringement of any patent.