Krytox™ GPL 295 grease has an Oil Viscosity of 160 cSt at 40°C and the estimated useful temperature range is -36°C to 204°C.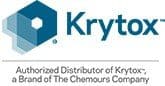 MORE INFO
Opteon™ SF33 is an ecologically friendly nonflammable fluid that is commonly used as a specialty cleaning or carrier fluid. Opteon™ SF33 is optimized to replace much more harmful chemicals such as HCFCs, PFPEs, HFCs, HFEs and others as an industrial solvent carrier fluid. Other applications Opteon™ SF33 is commonly utilized in the military, aerospace, and semiconductor manufacturing industries such as:
Metal degreasing and rinsing agent
Electronic and precision cleaning
Ideal for: aerosol solvent/formulations, carrier fluid, and lubricant deposition
Ultra Low GWP (≤ 2.0), zero ODP, 100% non-flammable
MORE INFO
ShieldSys™ SSW75 is a high-performance, oleophobic coating utilizing our proprietary crosslinking resin technology to develop an ultra-durable, oil and water repellent spray coating. Our water repellent spray develops a flexible transparent barrier coating on porous and non-porous surfaces imparting surfaces with water, oil, and stain repellency. ShieldSys SSW75 water repellent spray can be applied to an array of surfaces to repel moisture and keep them dry including metal, wood, aluminum, galvanized metal, PVC, concrete, masonry, asphalt, vinyl siding, fiberglass, and more.
Exceptional durability and cost-effectiveness
Excellent oil, water, and stain repellency
High utility – can be applied to a variety of surfaces
Low VOC
MORE INFO
TriboSys™ 3203 is the thinnest grade 0 grease and therefore is the easiest to spread for novice lubricators. Heavily utilized in the mechanical keyboard for its ability to make a new keyboard feel broken in, ease of application, and non-migrating properties. TriboSys 3203 is a fully fluorinated semi-fluid grease that is almost exclusively utilized on tactile and click switch internals due to its relatively low viscosity index. Benefits of the TriboSys 3203 include:
Non-migrating grease ideal for tactile and click switches
Easy to apply and more uniform wear of the mechanical switch internals
Makes a new mechanical keyboard feel "broken in" and elongates the life of the switches
Elimination of "scratching" sound or any other undesirable acoustic properties
Elimination of any undesirable tactile properties such as spring jitter
MORE INFO
TriboSys™ MS-3270MD grease is biocompatible under ISO 10993 standards, providing superior lubrication under the most challenging medical applications in comparison to hydrocarbon and silicone alternatives. All variants of TriboSys™ are unaffected by all forms of sterilization and will not transfer or degrade under these conditions. Benefits include:
Biocompatible (ISO 10993)
NASA specified TriboSys™ 3270MD for their production of VITAL ventilators
Chemically Inert; Non-nutrient, and no Migration
Non-Flammable; Oxygen-safe
Odorless and Non-Staining
MORE INFO
Vertrel™ SDG Select has been approved by Boeing BAC5408 for vapor degreasing, to clean a wide range of soils, including oils, greases, waxes, and hydraulic fluids. The high solvency power (Kb = 95), low surface tension, and non-flammability properties of Vertrel SDG Select makes it an ideal ultrasonic vapor degreasing solvent. Vertrel SDG Select is designed to replace trichloroethylene (TCE) and n-propyl bromide (nPB) and perform in applications where maximum cleaning power is needed. It can also be used as a substitute for other cleaners, such as HCFC-225 and its blends, HCFC-141b, HFEs, PFCs, CFCs, and aqueous cleaners, where safety and environmental concerns and/or floor space and cleanliness are at a premium.
MORE INFO