Krytox LVP – High-Vacuum Grease
Krytox LVP high-vacuum grease performs over extremes of temperature and pressure that hydrocarbon, silicone, and chlorofluorocarbon greases can't match. From –15–300°C (0–570°F), at vapor pressures as low as 10–13 mmHg, and in even the most chemically severe environments, Krytox® LVP grease gives dependable, proven performance.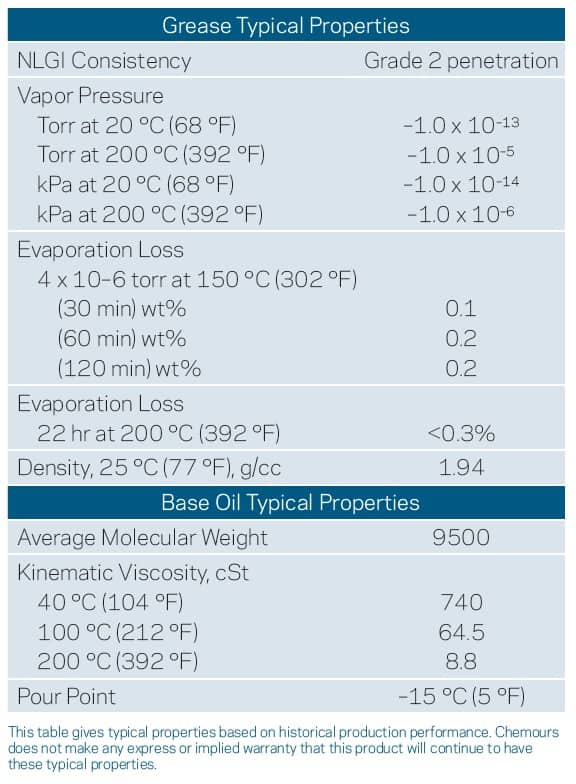 Additionally, Krytox high-vacuum grease is non-flammable, insoluble, and chemically inert. It is also an excellent lubricant and sealant. And Krytox LVP grease offers all these features at a price that is less expensive than many hydrocarbons, silicone, and chlorofluorocarbon greases. Krytox LVP high-vacuum grease is used as a sealant or lubricant in vacuum systems. Chemically inert and offering superior lubrication properties, LVP grease combines the extremely low vapor pressure of Krytox fluorinated oil, which is based on the most stable type of perfluoroalkylpolyether available, with a fluorocarbon thickener.
Thus, Krytox LVP grease will not explode, ignite, decompose, react to form gummy or solid deposits or act as fuel for fires. Krytox® grease retains its lubricating ability at temperature extremes ranging from –15–300°C (0–570°F) and offers complete oxidation resistance. All these features add up to lower wear and longer life for equipment and components—so important when access for component repair or replacement is difficult or impossible.
Nonflammable
Today, Krytox products are proven performers that are setting the industry standard for safety, reliability, and cost-effectiveness.
Krytox LVP grease is nonflammable under all conditions likely to be encountered in service. It shows no autogenous ignition, flash, or fire points up to the highest temperature tested, 649°C
(1200°F), in standard ASTM tests.
Compatible with Oxygen
At elevated temperatures and pressures, Krytox LVP high-vacuum grease is highly resistant to attack by gaseous and liquid oxygen. As a result, it is the lubricant of choice in industries that manufacture or use oxygen. Tests confirming the non-reactivity of Krytox™ lubricants with oxygen were performed at a variety of conditions.
The recommendation made here with and the information set forth with respect to the performance or use of our products are believed, but not warranted to be accurate. The products discussed are sold without warranty, as to fitness or performance, express or implied and upon condition that purchasers shall make their own test to determine suitability of such products for their particular purposes. Likewise, statements concerning the possible uses of our products are not intended as recommendations to use our products in the infringement of any patent.