Medical Guidewire Coatings: Miller-Stephenson's fluoropolymer coatings leverage unmatched adhesion and superior lubricity to meet the demanding requirements of medical devices.
In the medical guidewire coatings market, the use of fluoropolymers centers on three key properties: lubricity, biocompatibility and surface adhesion. Failing to deliver on any of these characteristics can have massive performance and liability implications.  Therefore it is critical that device coaters and manufacturers understand that choosing the highest performing and most consistent fluoropolymer coatings is critical criteria to consider. Fluoropolymer resins find utility in a variety of medical applications from endoscopic blades, surgical instruments, cannulae, guidewires, electrosurgical tools, hypotubes, etc. The use of fluoropolymers in medical applications is so extensive that a detailed exploration of the market is beyond the scope of this article. This expansive application portfolio is directly correlated to the unique stability, lubricity and biocompatible nature found exclusively with fluoropolymer technology.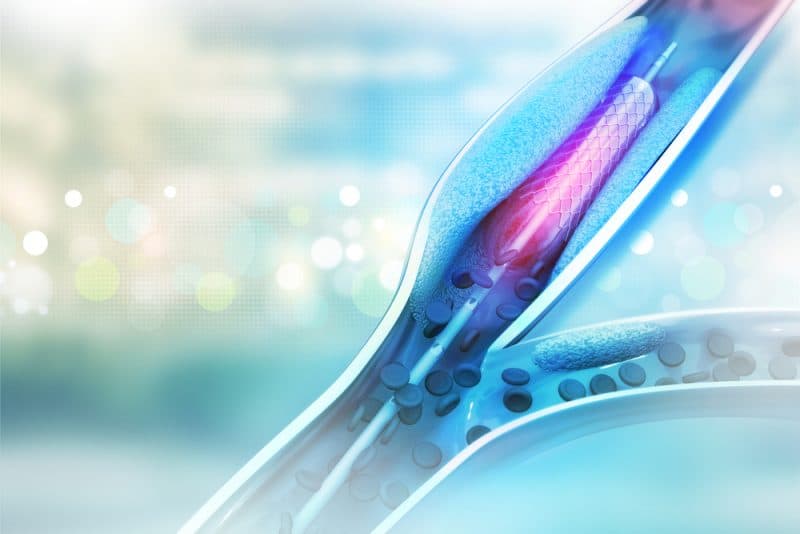 The focus of this article will lie primarily on the coating of metallic medical wire (ie: catheter guidewire, nitinol wire) and cautery / scalpel tips. Fluoropolymer coated guidewires are often used in the first step of many minimally invasive medical procedures. Fluoropolymer coatings for guidewires are applied for three primary reasons: Enable smooth wire insertion, lower friction during wire advancement / minimize friction-induced vessel spasms, and protection of the core wire from corrosion. Each of these characteristics are critical for successful completion of any medical procedure using guide wire.  From a chemical standpoint these attributes start with the base fluoropolymer and binder system.  Industry precedent relied upon chromium (VI)-based binder systems to provide the surface adhesion of the fluoropolymer to the metallic substrate.  These systems typically would consist of a water or solvent carrier fluid and could be applied via spray, dip, or reel-to-reel operations. Coatings consist of a traditional two-coat system (primer and topcoat) and an efficient, high-throughput one-coat system. Coating thickness is typically 5-10 micron. Strict ISO and ASTM qualifications exist to evaluate the adhesion, flexibility and corrosion-resistance of the applied coatings. Unfortunately, Cr(VI) exhibits acute cytotoxicty at low exposure levels and therefore considerable safety precautions must be taken throughout the shipment, storage, application, curing procedures. Once the coating is fully cured, all safety concerns associated with Cr(VI) no longer apply and the coated wire or medical device is 100% biocompatible and safe for use. Our acid-primer based medical guidewire coatings are widely known as the "gold standard" in terms of durability, adhesion, and surface lubricity, indicative of our astute attention to perfection. Our medical coatings have never been observed showing any sign of delamination nor in-vivo "slip-stick" issues.
Chemours, in conjunction with Miller-Stephenson, have developed state-of-the-art, next generation medical guidewire coatings which are chromium-VI free, yet exhibit comparable performance to the acid-primer systems. Removal of Cr(VI) eliminates the need for expensive shipping, storage, and applicator exposure precautions.  These novel coatings are available in solvent and water-based carrier fluids and are formulated for two-coat or one-coat applications.  Traditional coating methodology such as spray, dip, and reel-to-reel are fully compatible with this next generation coating. Moreover because of the advancements made in this technology, Chemours has developed a coating specifically for Nitinol and temperature-sensitive alloys, providing a low-temperature curing profile while maintaining full adhesion and lubricity characteristics. Benefits of this non-Cr(IV) include the following:
Non-acid Primer (Chromium-VI) system
Water and Solvent-based formulations
One-Coat and Two-Coat Systems
High and Low Cure temperatures
Various Colors and Viscosities available
Extremely low coefficient of friction (Tested ASTM 1894)
Pass of ASTM D3359- Adhesion Test
Passes  ISO 11070- Corrosion Resistance Test
Passes ISO 7802- Wire Wrapping Test
Customer evaluations of this new technology from both coaters and end users have been succinct; this next generation coating brings all the performance benefits of our previous acid-primer formulations while alleviating the strict regulatory and toxicity hurdles observed with Cr(VI). With over 40 years of innovation and development in medical coatings, Chemours and Miller-Stephenson have the technical prowess and operational capacity to deliver the highest of quality products and customer service to its medical customers.
Technical or Application Support:
The recommendation made here with and the information set forth with respect to the performance or use of our products are believed, but not warranted to be accurate. The products discussed are sold without warranty, as to fitness or performance, express or implied and upon condition that purchasers shall make their own test to determine suitability of such products for their particular purposes. Likewise, statements concerning the possible uses of our products are not intended as recommendations to use our products in the infringement of any patent.