Krytox AGL 683 Aviation Gear Box Grease – Case Study
Aircraft Cabin Air Conditioning and Temperature Control System Application
Aircraft systems manufacturer improves flying experience with help from custom lubricant.
Aircraft systems manufacturer makes cabins more comfortable and reduces costly maintenance
A systems manufacturer designed a cabin air conditioning and temperature control system for the latest series of large passenger aircraft that makes flying a more comfortable experience for passengers and flight crews. Compared to traditional systems, the new system provides higher humidity, improved air quality, lower cabin pressure, and less noise in the cabin.
The Challenge
The manufacturer needed a lubricant that could meet the demanding requirements of the electromechanical actuator gearbox in the control system. Specifically, the lubricant had to provide superior lubricity over an operating temperature ranging from –55–100 °C (–67–212 °F) and perform with very limited torque. In addition, the gearbox was required to operate for extended periods of time without re-lubrication.
The Solution
Chemours developed a new product specifically designed to meet the needs of the electro-mechanical actuator gearbox. Krytox AGL 683 grease can withstand the temperature extremes of the application and provide the lowest possible torque while delivering exceptional lubricity.
Key Advantages
Using Krytox AGL 683 lubricant, the aircraft systems manufacturer was able to extend lubrication intervals.
Chemours has the knowledge to put science to work to develop a custom-designed lubricant that met the specific needs of this critical system.
Krytox AGL 683 lubricant can be used for other electro-mechanical gearbox applications.
Krytox™ AGL 683 grease has an Oil Viscosity of 32 cSt at 40°C and the estimated useful temperature range is –60 °C to 120 °C.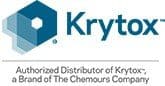 MORE INFO
To learn more about Krytox AGL 683, please click here.
Krytox™ is  a trademark of The Chemours Company FC, LLC.
The recommendation made here with and the information set forth with respect to the performance or use of our products are believed, but not warranted to be accurate. The products discussed are sold without warranty, as to fitness or performance, express or implied and upon condition that purchasers shall make their own test to determine suitability of such products for their particular purposes. Likewise, statements concerning the possible uses of our products are not intended as recommendations to use our products in the infringement of any patent.