The Secret Competitive Advantage of High Performance Lubricants
High performance lubricants offer long lasting performance capabilities, despite harsh environmental conditions (e.g., extreme temperatures, extreme pressure, chemical exposure, etc.), minimizing the risk of failures, increasing end user satisfaction and enabling you to offer extended warranties with fewer claims. It's a solution that benefits you and your end users.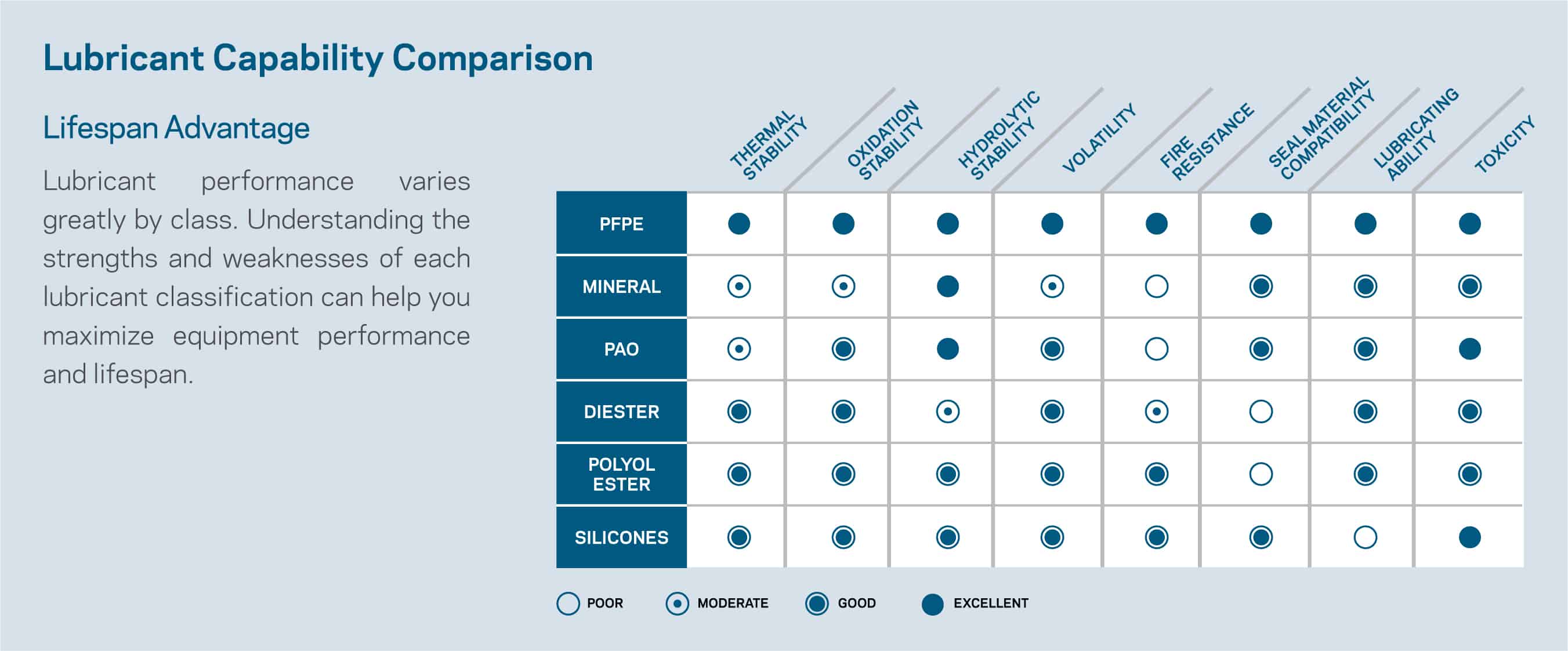 Perfluoropolyether (PFPE) high performance lubricants offer the broadest performance capabilities. PFPEs can help increase equipment quality, decrease warranty claims and even extend lifespan projections.
Krytox PFPEs are Reliable
PFPEs boast a much longer performance life than hydrocarbon greases due to the unique chemistry. In an endurance ASTM test, PFPEs outperformed traditional lubricants, lasting more than five times as long. In fact, some components require only a single application and are "lubed for life." Additionally, PFPEs achieve this lasting performance using significantly
less lubricant per application.
Krytox PFPEs are Broadly Compatible
Unlike almost all lubricants, PFPEs are chemically inert, meaning they do
not react with chemicals or materials. Even in 100% liquid or gaseous oxygen, PFPEs will not burn. Even in 100% liquid or gaseous oxygen, PFPEs will not burn. This lubricant class is also non-toxic, offering several medical- and food-grade lubricants, and environmentally friendly, no hazardous VOCs and the oils are recyclable.
Krytox PFPEs are Safe
These High Performance Lubricants remain stable over a broad temperature range, from -75 °C to 350 °C (-103 °F to 662 °F). A high temperature ASTM test was actually stopped before the PFPE lubricant ever failed. Likewise, in an
extreme pressure ASTM test, PFPE samples maxed the load limit of the test apparatus without failure.
Total Cost of Ownership Advantage
According to Power Magazine, lubricants make up less than 1 percent of a plant's operating cost, but can directly influence more than half of plant maintenance costs. Combine that with the corresponding downtime and productivity loss, and lubricant selection has a significant impact on end user total cost of ownership (TCO).
PFPE's stable, lasting performance under harsh conditions can help generate significant savings over the equipment lifespan. In fact, one annual cost comparison between a PFPE and a conventional hydrocarbon lubricant found the PFPE cost 23.5% less ($1,772 vs. $2,250).ii

About Krytox™ PFPE Lubricants
Krytox™ lubricants are Chemours' line of high quality PFPE oils and greases, which have been proven to offer long-term performance and superior value. These lubricants are PFPEs, resulting in exceptional
chemical stability. Therefore, they are thermally stable, nonflammable and insoluble in water, acids, bases, and most organic and all non-fluorinated solvents.
Additionally, Krytox™ High Performance Lubricants are ISO 9001 and ISO 14001 certified, and several grades are NSF H-1.
The attributes of Krytox™ lubricants include:
Performance over a wide temperature range
Extreme heat or cold have no effect on the lubricity of these lubricants, effective from -75 °C to greater than 400 °C (-103 °F to 752 °F), depending upon operating conditions and product grade.
High Performance Lubricants Resistant to chemical attack
Krytox™ lubricants withstand oxygen, acids and other aggressive substances.
Low evaporation
Krytox™ lubricants – within the recommended temperature ranges – experience almost zero evaporation or chemical changes over the many years of a machine's service life.
Compatibility
Krytox™ lubricants won't harm painted surfaces or most elastomeric materials. They are compatible with almost every material they may contact.
For more products and information, click here. Miller-Stephenson also provides technical assistance.
i. Matt Mowry, "The True Cost of Bearing Lubrication," Power Transmission Engineering, June 2015 (https:////www.powertransmission.com/articles/0615/The_True_Cost_of_Bearing_Lubrication).
ii.Mike Johnson, "Machine Lubrication Best Practices Volume 29: Lubricant Application: High Technology Lubricants –Cost vs. Performance," Tribology and Lubrication Transactions, a STLE Publication, May 2010 (https:////www.lelubricants.com/lit/news/Articles/best_practice.pdf).
The recommendation made here with and the information set forth with respect to the performance or use of our products are believed, but not warranted to be accurate. The products discussed are sold without warranty, as to fitness or performance, express or implied and upon condition that purchasers shall make their own test to determine suitability of such products for their particular purposes. Likewise, statements concerning the possible uses of our products are not intended as recommendations to use our products in the infringement of any patent.