Krytox™ NRT oils and greases are designed specifically for critical oxygen service equipment, where failure is not an option. With more than 40 years of experience, Chemours offers lubricants that meet the demanding needs of oxygen and reactive gas applications.
NRT PLSS is NSF-H1 Rated for incidental food contact.
Krytox™ NRT PLSS grease has an Oil Viscosity of 240 cSt at 40°C and the estimated useful temperature range is -36°C to 260°C.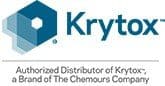 MORE INFO